Liquid error (layout/theme line 39): Could not find asset snippets/tipo.booking.script.liquid
Kathryn Drop in Sink K-2325-8-NG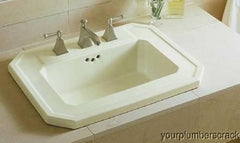 Kathryn Drop in Sink K-2325-8-NG
by Kohler
Sink available in Tea Green w/ 8" widespread.
Inspired by a 1929 KOHLER exhibition at the Metropolitan Museum of Art, the Kathryn collection captures the unforgettable style of a bygone era. The Kathryn drop-in sink brings timeless sophistication to the bathroom with its rectangular basin and angled-corner design.
L 24", H 7-7/8", W 19"